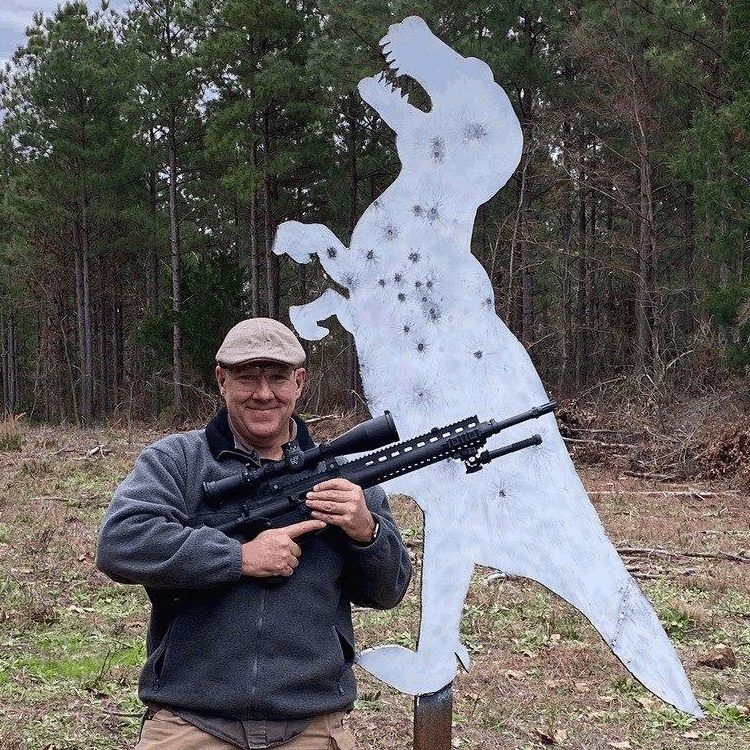 My how quickly the past 2 years have passed. Navigating the pandemic while trying to enjoy some since of normalcy at the range has been difficult for all of us. Nevertheless, we have been able to have some fun while also getting some significant projects accomplished. Our future at ETRPC is bright but without the vision of our forefathers we would not be in the position we are in today. Ammo is coming back! Refer to the website for some of our favorite vendors.
Despite the challenges of the pandemic over the past 2 years we have had significant success in completing the following projects:
· Updating the website to include a portal for payment, a live calendar to notify members which ranges are available, chat rooms for various interest groups and a long list of go to resources for all of your shooting needs. Over time, this will reduce our costs in sending out yearly mailers and reminders for paying dues. It is working!
· Adding crushed rock to the upper ranges has been a big success! No one wants to shoot with mud on their feet.
· Painting the awnings at the upper bays. As our range ages so do the capital improvements we rely on to entertain our members. We must stay on top of this or the cost to replace will by far exceed our cost in maintenance.
· Opening the new steel bay! This has been a real crowd pleaser. We have had some issues with the plate racks but this is because we are using it!
· New buildings on the upper ranges for storing equipment. Our competitive shooting sports have really taken off. In order to attract and keep competitors we want to have an environment that is second to none. The shooters are volunteers and the fees to compete go back into improvements for the range.
· Replacement of all steel used for Steel Challenge and new steel for USPSA/IDPA.
Future projects:
· Closing the gap in the berm between ranges 1 and 2 while addressing drainage issues. This will require significant dirt work to make it right but well worth it in the end for safety and our ability to shoot, even with mild to moderate rains. Unfortunately, we can't redirect the river. Trust us, we tried!
· Adding a tie wall and barrier to ranges 7, 8, 9, 10 and 11. Erosion is rapidly covering the rock we used to cover these ranges. This will be addressed soon.
· Improved lighting to the upper ranges.
· Addition of 5 bays to the East side of the upper ranges. This is much needed to improve the experience for all of our members. We don't want our competitive shooting sports to negatively impact the experience of our members.
· Installing a new bathroom for the upper range.
· Add additional storage building to upper range.
· Purchase an ATV to assist us with maintenance.
· Added labor to assist us with operations and maintenance. For years we have relied on volunteers and this isn't sustainable.
For many years we have all been the benefactor's of shooting at one of the finest ranges in Texas at a significantly lower cost compared to our peers. It has been more than 10 years since we have had rate increase. Due to inflation over the years, the cost to maintain the range along with future projects, and increased cost of operations/insurance, the board has determined it is necessary to increase our dues beginning January 1, 2023 to:
Initiation fee - $50
General Membership - $150/year
Senior Membership(65 & older) - $135/year
The good news is we are still the best value in the industry…. by FAR! There isn't a range with comparable facilities that is .41 cents/day or $12.50/month for a general membership. We encourage you to shop around because we know you can't find it!
As ammo has started to come back our shooting sports continue to grow. Please join us in shooting Steel Challenge, IDPA, USPSA or Sporting Clays at the range. You can find all of the shooting dates on the calendar of our website.
At the January general membership and board meeting we nominated new officers, as follows:
President: Robin Emmel
Vice President: Tommie Deese
Secretary/Treasurer: Obie Oliver
Range Officer: Lewis Freeman
Please join us in thanking these 4 for volunteering their valuable time to serve our range. We are in good hands and will continue to grow ETRPC into the best shooting complex in East Texas!
In conclusion, we hope that you are enjoying YOUR range. Please continue to follow Cooper's 4 Rules of Gun Safety and we won't ever have a serious problem. Shoot often but more importantly, shoot straight!